High-Tech innovation is changing Luxury Travel in China
High-tech innovation is revolutionizing the world of luxury travel in China. With advancements in technology, the luxury travel industry in China is experiencing a significant transformation, offering unique and immersive experiences to travelers.
Technology plays a crucial role in every aspect of luxury travel, from planning to experiencing the trip. Cutting-edge apps and online platforms offer personalized recommendations and seamless bookings, ensuring a hassle-free experience.
Once travelers arrive at their destinations, they can enjoy high-tech amenities in smart hotel rooms and access personalized concierge services through mobile apps.
Virtual reality and augmented reality experiences allow travelers to immerse themselves in connection with local people and their culture. In China, luxury car services with advanced features and high-speed trains have transformed transportation, making travel within the country more efficient and enjoyable.
The Chinese Tourists
Chinese tourists are known for their love of travel and exploration. They have a strong interest in experiencing different cultures and immersing themselves in new environments.
Chinese tourists often prioritize popular landmarks and attractions, such as the Great Wall of China and the Terracotta Warriors. They also have a reputation for being avid shoppers, seeking out luxury brands and unique souvenirs.
With their growing middle class and increasing disposable income, Chinese tourists have become a significant force in the global tourism industry. Their enthusiasm for travel and willingness to explore new destinations make them an important demographic for countries and businesses in the tourism sector.
But, the new generation of Chinese really wants to eat some French food and drink some French wine, whereas their parents only wanted to eat Chinese food. Millennials want to experience French, Japanese, and Chilean food. They're much more open to new things.
Travel to China on a Luxury tour
Luxury China tours offer an unforgettable travel experience, allowing you to explore the rich history, vibrant culture, and breathtaking landscapes of this fascinating country in style. With its ancient temples, modern skyscrapers, and diverse natural wonders, China has something to offer every luxury traveler.
When planning a luxury tour in China, you can expect personalized service, exclusive accommodations, and unique experiences tailored to your preferences. From private guided tours of iconic landmarks like the Great Wall of China and the Terracotta Warriors to indulging in gourmet dining experiences featuring authentic Chinese cuisine, every aspect of your trip will be carefully curated to ensure a luxurious and memorable journey.
In addition to visiting famous attractions, luxury tours in China often include off-the-beaten-path experiences that allow you to immerse yourself in the local culture. You might have the opportunity to explore traditional Chinese villages, learn about ancient arts and crafts, or even participate in a private tea ceremony.
When it comes to accommodations, luxury travelers in China can choose from a range of options, including high-end hotels and resorts that offer world-class amenities and impeccable service. Some luxury tours even offer the option to stay in luxury boutique hotels or traditional Chinese-style accommodations, providing a truly unique and authentic experience.
Transportation during your luxury tour will also be taken care of, with options such as private chauffeur-driven cars or even private jets, depending on your preferences and itinerary. This ensures that you can travel in comfort and style, allowing you to make the most of your time in China.
Whether you're interested in exploring the vibrant cities of Beijing and Shanghai, discovering the stunning landscapes of Guilin and Zhangjiajie, or delving into the rich cultural heritage of Xian and Chengdu, you'll hike through the stunning Yellow Mountain and Jiuzhaigou National Park, go in Tibet, also in Yangshuo, and play with Pandas in Chengdu, while staying at sumptuous and exclusive hotels like Amanfayun, Banyan Tree Lijiang, or Summer Palace, luxury tours in China offer a truly luxurious and unforgettable experience.
The new innovations in terms of Tourism in China
The latest illustration is actually a new pocket translator introduced by way of a partnership between Ctrip, China's greatest online travel marketplace, and Dubai, the systems business accountable for the Dubai lookup motor as well as the Dubai Translate computer software.
The tiny device might have its really very own SIM card capable of running in the previously mentioned eighty global areas and may also provide as being a WiFi hotspot.
This kind of instrument could assist conquer a significant impediment to the development of the Chinese journey. The huge vast majority of Western vacationers have a small problem, linguistically, with global holidays.
Even though an American traveler could go to an area by which a great deal in the citizens doesn't speak English, the possibilities of most likely someplace precisely in which no one speaks English is fairly small-they are most often inside a placement to make do.
Pocket Translator
Chinese travelers, who far more often than not have restricted English-speaking abilities, do not have this luxury with reference to Chinese, this holds correct for vacationers from a myriad of up-and-coming tourist provide markets inside the Middle East and East Asia.
A generally connected, generally use-the-able pocket translator like this could do a great deal to help the journey, or no less than spur other businesses to finish far more to help bridge linguistic gaps for worldwide vacationers.
The additional performance of a WiFi hot spot also minimizes the need for travelers to obtain cellular services for their telephones in each and every vacation spot. This sort of features could demonstrate specifically beneficial for tourists likely to several places within a location in order that tourists do not should get a unique SIM card for each and each area.
Tech innovations pushed by Chinese
Partnership will permit Chinese residents and travelers to purchase China Mobile service usable in the UK. However, because of EU regulations, the service is usable in all EU member states-meaning that Chinese vacationers can experience seamless cellular solutions utilizing off from China and landing in Europe.
Extra partnerships like this the planet more than can only solutions to facilitate vacationers and cellular clients from throughout the globe.
Pocket translators similar to this could do significantly to aid vacation, or at the really the very least spur other firms to accomplish a lot more to aid bridge linguistic gaps for worldwide tourists.
However, yet another tech innovation pushed by Chinese vacationers is really a new partnership between China Mobile and the British isles BET Group known as Cm Link. The partnership will allow Chinese inhabitants and vacationers to purchase China Mobile support usable in the UK. However, because of EU regulations.
Cellular payments
The service is usable in all EU member states-meaning that Chinese travelers can experience seamless mobile service taking off from China and landing in Europe. Further partnerships like this across the world can only serve to facilitate vacationers and mobile customers from across the globe.
Undoubtedly the largest tale in Chinese-travel-driven technology is cellular payments. Obviously, cellular payments are in no way a Chinese innovation. Cellular payments created early on as being an indication to permit people in developing worldwide areas to access banking-like companies by which banking wasn't as obtainable.
Sooner or later, it was created inside the Western world through services like Apple Pay and Android Pay, but it's been China where most of the innovation of mobile payments has occurred, and its spread throughout the world is driven by Chinese travelers.
Alipay and WeChat Pay have been unfolding
All via the earth utilizing the sole goal of enabling the investing of Chinese vacationers who at your house are accustomed to purchasing each factor from avenue meals to health and fitness middle memberships via cellular payments. For Chinese vacationers, the provision of cellular payment transactions isn't a "feature," its a lot more frequently than not an expectation.
Whilst credit ranking and debit cards usually incur costs although employed overseas, cell payments haven't any this sort of constraints. Such companies also get rid of the necessity of discovering the very best prices of exchange for money currency.
Furthermore, these days most seasoned and beginner vacationers aren't without their phones and cellular data. Cellular payment solutions like Alipay and WeChat Spend are merely quicker, simpler, and less costly than nearly each and every other payment alternative obtainable.
Chinese-travel-driven technology is cellular payments
Essentially, the increase of WeChat Payout and Ali pay by yourself have created huge companies like Samsung and Apple stakeholders inside the really Chinese-oriented planet of cell payments. Possessing software and hardware that works well with these platforms is necessary for their offerings to be popular in China.
Overall, the biggest trend of the past few years regarding Chinese vacation, and trip typically is shoppers depend on for getting able to perform a whole lot a lot more with their telephones and mobile data in further places, a whole lot a lot more really very easy, and for a lot more cost-effective.
Chinese trip is forcing firms from produced international areas to reevaluate how they provide their consumers far better. The explosive progress of vacation from China, an industry which includes mainly disregarded the adoption of the engineering of credit playing cards and laptops in favor of effective cellular telephones with payment abilities, has only accelerated this method.
Best Times To Go on China Travel
In terms of weather, the shoulder seasons in China, which are February to April and September to October, are generally considered the best times to visit. During these months, the weather is usually mild and comfortable in most parts of the country.

It's worth noting that China has three Golden Week holidays, which are the May Day holiday, the National Day holiday, and the Spring Festival holiday. These holidays are peak times for domestic tourism, and many Chinese people travel within the country during these periods.
The exact dates of these holidays change every year, so it's a good idea to check with your travel designer or consult a reliable source for the specific dates of these holidays during your planned visit.
KOLs
KOLs, or Key Opinion Leaders, have a significant influence on various industries, including the luxury travel sector in China. KOLs are individuals who have built a large following on social media platforms and have the power to shape consumer opinions and behaviors.
In the context of luxury travel in China, KOLs play a crucial role in promoting high-tech innovations. With their extensive reach and influence, KOLs can showcase the latest technological advancements in the luxury travel industry, such as virtual reality tours, personalized travel apps, and smart hotel amenities.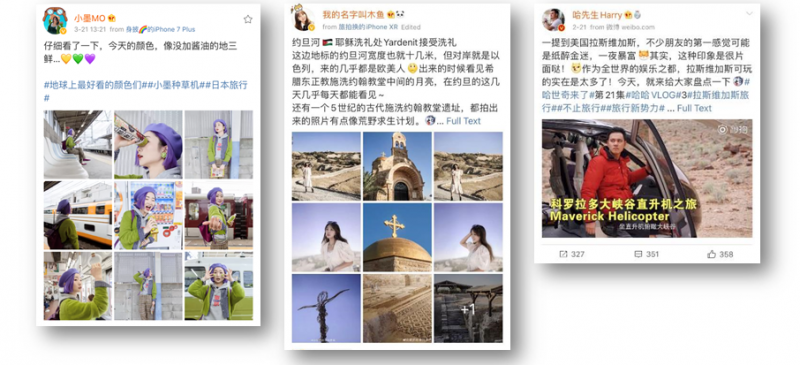 KOLs often collaborate with luxury travel brands to create engaging content that highlights the integration of technology and luxury experiences.
They may share their own travel experiences, review luxury hotels and resorts, or provide recommendations on unique travel destinations. By doing so, KOLs help to create awareness and generate interest among their followers, ultimately influencing their travel choices.
It's important to note that the impact of KOLs on high-tech innovation in luxury travel is constantly evolving, as new technologies and trends emerge. Therefore, it's recommended to stay updated on the latest developments in this field through industry publications, social media platforms, and relevant conferences or events.
Case Study
High-tech innovation has indeed been transforming the luxury travel industry in China. One notable case study is the partnership between Alibaba's travel platform, Fliggy, and Marriott International. This collaboration aimed to create a seamless and personalized travel experience for Chinese luxury travelers.
Through Fliggy's platform, Chinese travelers gained access to Marriott's luxury hotels and resorts worldwide. The partnership utilized Alibaba's advanced technology, such as facial recognition for check-in, smart room controls, and personalized recommendations based on traveler preferences.
This high-tech integration not only enhanced the convenience and efficiency of luxury travel but also provided a more tailored and immersive experience for Chinese travelers. By leveraging innovative technologies, luxury travel providers in China are able to meet the evolving needs and expectations of the tech-savvy Chinese consumer.
We are your local partner in China! Contact us! 
High-tech innovation is revolutionizing the luxury travel industry in China. Technology advancements have made it possible for luxury travelers to have a more personalized and seamless travel experience.
Online booking platforms and mobile apps provide tailored recommendations and concierge services, making trip planning easier.
Luxury accommodations now integrate high-tech features like smart rooms and digital concierge services, enhancing comfort and convenience. Virtual reality and augmented reality technologies offer immersive experiences for travelers.
Safety and security measures have also been improved with the implementation of facial recognition technology and smart surveillance systems.
Technology has greatly impacted the luxury travel industry in China, allowing providers to offer unique and exclusive experiences to their customers.
Through innovations such as drone photography, virtual tours, and personalized itineraries, luxury travel has become more accessible, convenient, and personalized for travelers.
As technology continues to advance, we can expect further transformations in the way luxury travel is experienced in the future.
We are a China-based marketing agency offering cost-effective solutions to foreign brands interested in tapping into the Chinese market. Our team of Chinese and foreign experts has the experience and know-how needed to succeed in this lucrative, yet complicated market.

Gentlemen Marketing Agency offers many digital marketing and e-commerce solutions, such as web design, e-commerce and social media marketing strategies, localization, market research, KOL marketing, and more.
Don't hesitate to leave us a comment or contact us, so that we can schedule a free consultation with one of our experts, that will learn about your brand and present you the best solutions for your China market strategy.